THE PEOPLE'S CHOICE
All-Natural Ingredients
Our unique process combines six of nature's most moisturizing ingredients to create a balm unlike any other. That's it. No additives, preservatives, fragrances, chemicals or parabens.
The Celebrities Love It!
Legendary among celebrities, cult among the fashion press and beauty industry. The must-have beauty tool for professional make-up artists.
All-Purpose Skin Cream
Hydrates and moisturizes skin from head to toe. Use as a moisturizer, lip balm, eye cream or even hair mask.
ALL-NATURAL INGREDIENTS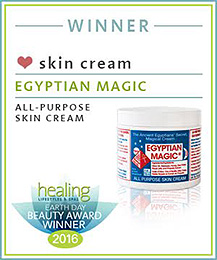 For more than 20 years we have been blending these ingredients using our unique, proprietary process based on a formula that was created thousands of years ago in the land of the Pharaohs.
The result is a luxurious cream with moisturizing and nourishing properties that are legendary among celebrities, influencers, the beauty industry and even  the fashion industry.
With that support, Egyptian Magic has grown exclusively through word-of-mouth to be one of the most popular and widely endorsed skin creams in the world.
Egyptian Magic Skin Cream does not contain palm oil or any palm-derived ingredients.
Hand made of 100% Pure Natural Ingredients
OLIVE OIL
BEESWAX
HONEY
BEE POLLEN
ROYAL JELLY
BEE PROPOLIS